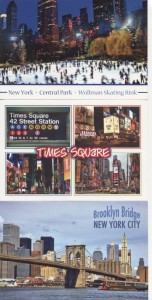 I picked up some postcards 10 for $1 in Times Square when I went a couple of weeks back.  I decided to post them here.. so if you are on postcrossing and I get your name, you might just get one of these.
Ne York – Central Park – Wollman Skating Rink
New York's 5th Avenue overlooking the Wollman Skating Rink in Central Park
Times Square
New York City's world famous Times Square
Brooklyn Bridge New York City
BROOKLYN BRIDGE and Lower Manhattan skyline
New York City
These treasured landmarks, listed by their World Guide Number and County location, are only a few of the many magnificent wooden structures in the state.
(Top Left, clockwise)
Hayes Covered Bridge, 38-60-02, Union County
Penitentiary Covered Bridge, 38-60-05, Union County
Forksville Covered Bridge, 38-57-1, Sullivan County
Rishel Covered Bridge, 33-49-05, Northumberland County